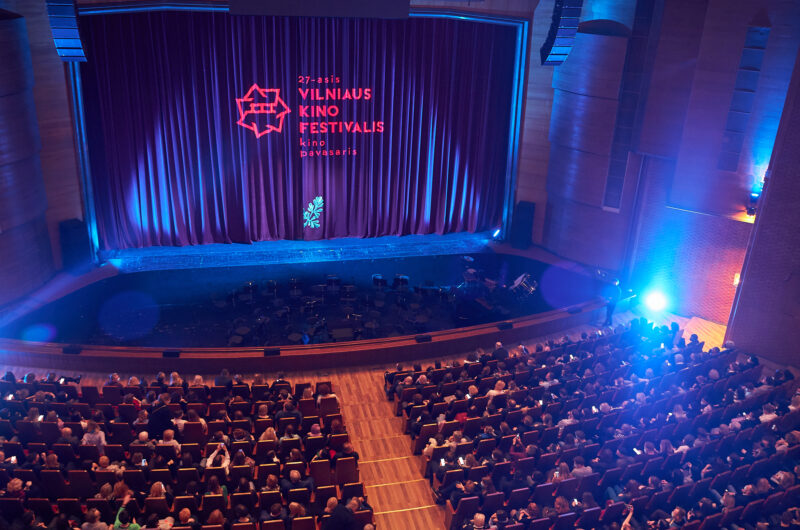 5 Apr 2022
Vilnius International Film Festival Honors Ukrainian Resistance
Vilnius International Film Festival, the largest cinematic event in Lithuania, announced post-pandemic live screenings in the country. This year, the Festival actively boycotts all Russian films, honors Ukrainian directors, and invites spectators to immerse into 90 feature films and 51 short films in selected Lithuanian cinemas, including the Lithuanian National Opera and Ballet Theatre.
Lithuania has been one of the most resilient supporters of Ukraine during the Russian-inflicted war and many arts, entrepreneurial, educational communities, as well as private persons, have been organizing protests, initiatives, and donating millions of Euros to war relief organizations. At the same time, the Festival invites all Ukrainian refugees to watch films for free, and several screenings have films translated to their native language.
"Our annual mission to show quality cinema was given a new meaning this year. For this reason, we will commit to creating a reason and a place to meet up, be together, and feel a sense of unity and normalcy, which, according to psychologists, is essential right now, as much as possible," said Algirdas Ramaška, CEO of the Festival.
The Festival is celebrating the return of live events after two pandemic years by upscaling its main venue this year and hosting screenings in one of the most prestigious cultural spaces in the country—the Lithuanian National Opera and Ballet Theatre. The theatre, located in the heart of Vilnius and on the shores of the Neris River, was built in 1974 and has become an iconic symbol of Lithuanian culture and arts throughout the years.
By transferring to a high culture venue, the event aims to show the undeniable value of cinema, as well as celebrate world-famous creators and films—Annette by cult favorite French director Leos Carax, Circus by Charles Chaplin, and many more. Other venues will also screen Pilgrims, a debut by Lithuanian director Laurynas Bareiša, which won the Orizzonti Award at Venice Film Festival 2021, as well as many other films.
The Festival includes Meeting Point—Vilnius 2022, the work-in-progress audiovisual industry event, which aims to scout, develop, and support European creators and their debut films, at the same time creating a cross-Europe cinematic network.
Moreover, Vilnius International Film Festival is known for it's long-term experience working with volunteers of all ages, including seniors. Vilnius' residents are invited to join the film festival community each year, and now in 2022, after a long 2-year Covid break, finally the physical event is happening in the Lithuanian capital Vilnius, reaching the number of 260 volunteers between the ages of 16 and 60 years old.
Even though traditional events were scrapped during the pandemic, the unprecedented situation evoked several creative decisions on behalf of organizers in the past several years: drive-in screenings at Vilnius Airport, unlimited screenings in hotel rooms, and the option to see all films in the comforts of one's home, which brought a high interest and attendance from Vilnius residents, local and foreign communities.