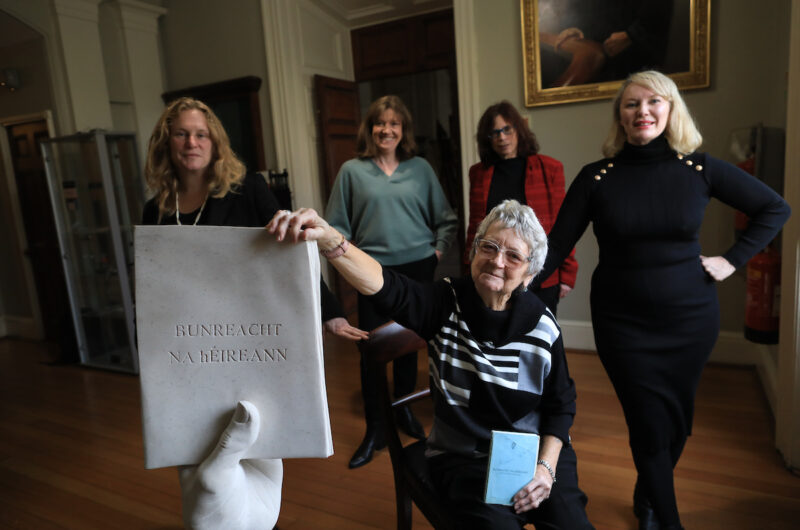 7 Apr 2022
Creative Residency in Dublin: Law and art combine in unique opportunity
At Dublin City Council Culture Company, we have a Creative Residency programme which creates new partnerships to try out ideas. We want to test new approaches through these residencies which in turn will add to the cultural story of the city.
These unique residencies pair makers, artists or cultural experts with non-cultural organisations. Then, they can experiment together, outside of their own sector. For us, it reaffirms the importance of bringing people together who don't normally connect with each other and giving them the support to do just that. This unique exchange and sharing of ideas allows for rich cultural experiences and creative outcomes.
Exploring Ireland's oldest school of law
The first Creative Residency of our Programme arose when we began a conversation in 2019 with our neighbour and Ireland's oldest school of law, The Honorable Society of King's Inns. We looked at the idea of art and law and realised such a residency had not previously taken place in Ireland.
Following an open call for artists, the partnership selected artist Jesse Jones and provided her with a place to live and work, a network of support and peer learning, and funding for the development and creation of a new artwork or creative process.
Beginning in September 2019, the Residency was initially intended to be six months long and Jones embarked on a period of deep research in King's Inns. This saw her immersed in life there by going to lectures, sifting through the archives, connecting with students and lecturers, attending court with barristers, and working with an advisory group. (The advisory group included artists, barristers, an archivist, team members from the Culture Company, and the CEO of King's Inns.) This allowed Jones to rigorously explore the connections between the law, art and life.
As a result of the pandemic, Jones lived in a cottage on the grounds of this educational third level institution for almost two years. In the course of her research, she connected with the story of Máirín de Burca – an Irish activist primarily fighting for equality. Now aged 83, de Burca was a member of the Dublin Housing Action Committee, formed in May 1967, the Irish Anti-Apartheid movement, the Prisoner's Rights Organisation and Right to Die Ireland.  As an activist she was jailed and fined (for her attacks on Nixon's car during a visit to Ireland) during 1970.  She is best known for her role in changing history with her involvement with the Juries Act, 1976.  Alongside Mary Anderson, she challenged the State to allow women to sit on juries for the first time since 1927.
Jones commented, "Máirín de Burca was, for me, an example of a woman that in breaking the law changed the law; her work in housing activism is something we need to enliven today in these times of crisis."
A permanent artwork by an internationally acclaimed visual artist
From working with de Burca and hearing about her extraordinary life, Jones was inspired to create her first ever permanent art piece, a portland stone statue of the arm and hand of Máirín de Burca holding her personal copy of Bunreacht na hÉireann (The Irish Constitution). Jones has created this monument to the role of the 'radical litigant', someone who has shaped the law through rebellion and in turn developed the way we see ourselves in relation to the law.
Jones commented, "This residency was an amazing time resource to really think through the law and art and being hosted in a legal context gave me access to a different perspective on what legal transformation legacies mean".
The statue was unveiled in King's Inns in late 2021 and will remain on display for all future visitors and students to see.
Connecting through the Creative Residencies
Speaking at the unveiling of the sculpture, Mary Griffin, CEO and Under Treasurer of King's Inns, mentioned how the Residency had, "… brought together art, creativity, change in society and the law and captured it beautifully in the final artistic piece. We thank Dublin City Council Culture Company for approaching us with this idea and look forward to future collaborations with artists and culture. Diversity comes in many forms and being open to new influences and ways of thinking brings a richness to what we do."
Also speaking at the unveiling, Iseult Byrne, CEO of the Culture Company was equally emphatic about the benefits of the programme,  "As a company we continue to strive to create new opportunities for people to engage with, and participate in culture, and through this Creative Residency programme specifically we have created the ideal landscape to forge new relationships and encounters, which has enabled in this instance an artist of Jesse's calibre to develop the incredible work of art we see here today."
Ongoing explorations with the Creative Residency Programme
At the Culture Company, we are excited to continue bringing creative people and organisations together through the Creative Residency programme. By connecting in this way, we hope to not only develop and share new ways of working, but to further embed new forms of culture in unexpected places across the city.
The Historian-in-Residence for Children and the Creative Residency in Sport are two ongoing Creative Residencies and you can discover more about the programme in this link here.