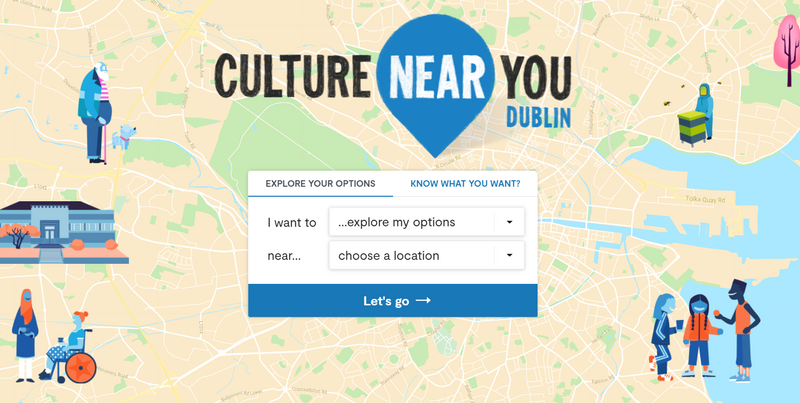 The Dublin Cultural Audit and Map project
Dublin City is a member of the ACCESS Network through the participation of Dublin City Council Culture Company, an independent company formed by the Dublin City Council in March 2018. The Culture Company runs cultural initiatives and buildings across the city with, and for, the people of Dublin. Collaborating with people, communities, cultural organisations, businesses, and Dublin City Council to embed cultural experiences and increase cultural participation throughout Dublin.
The Dublin Cultural Audit and Map project was developed to add to the local authority's knowledge base, to inform decisions by the city council departments, planners and strategists. This intelligence project is also a public resource – a website called Culture Near You – that makes the city's cultural buildings, organisations and networks easier to find and connect with for the people of Dublin. Cultural information gathered includes arts and heritage, parks and nature, sport and fitness, food, hobbies, community involvement and education, as well as artists and makers who call Dublin home. The Dublin Cultural Audit and Map was made by Dublin City Council Culture Company in partnership with Dublin City Council to deliver Priority 2.4 and 3.1 of the Dublin City Cultural Strategy (2016-2021).
How did we make it?
We embarked on research and began to ask questions about what makes people feel connected to their local area, whether they think there are opportunities for people to take part in cultural activities where they live, or whether they feel part of the cultural life of their area.
Initial research showed that a lot of information is already easily available to residents and visitors but only if they know what they want. So the project's objectives became to provide information that gives cultural choices to city residents and visitors who don't know what they are looking for. We set up a working group with representatives from inside and outside the local authority including planners, decision-makers and people working in the cultural sector and in communities. They helped us identify what we needed to know, what to include and exclude, how to categorise the data and what language to use to describe it.
We worked in partnership with the GIS (Geographic Information Services) and information Systems Departments in the local authority, along with data intelligence company (to develop the map system), and creative agency (to present it to the public in a user-friendly way). It was developed using a 'cultural mapping' process and the public are invited to add to and update this data via Culture Near You. This dynamic database will continue to grow and evolve, organising information and tracking changes in the cultural landscape of the city.
Where can you find it?
This project has a dual aim of providing cultural knowledge to Dublin City Council for decision-makers and city planners, and highlighting cultural choices to people who live in the city. It's made up of two main parts. All Dublin City Council staff can access the data on their desktops via the Corporate GIS intranet. Council planners, strategists and decision-makers can access and analyse the data via M.App Enterprise Feature Analyser.
Anyone can visit Culture Near You online at dublincity.ie/CultureNearYou to find the places in Dublin where culture happens and those who make it happen. Cultural mapping can act as a bridge between citizens and the people making decisions that impact on their lives. The Dublin Cultural Audit and Map is a living project, which we will continue to grow and update.
To find out more about this project contact culturenearyou@dublincitycouncilculturecompany.ie