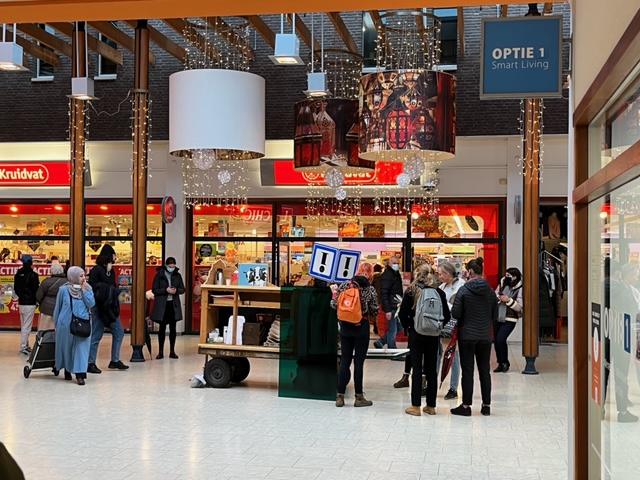 The Art-Cart of Nieuw-West
The Art-Cart is a mobile bulletin board, a cabinet of curiosities on wheels- filled to the brim with art works, tiny sculptures, a variety of leaflets, and trinkets all from artists and cultural organizations residing in the district of Nieuw-West in Amsterdam. Built in the neighborhood at Social Design Workshop Noorderhof, the Art-Cart was constructed in collaboration with the workshop's team of volunteers and local artists. It then hit the streets of Nieuw-West, collecting more pieces on its way, where conversations were struck with locals.
As an artist, having resided in the neighborhood in a community art building (also known as an incubator) I felt conflicted at the time about our role as cultural instigators in the area. We, as a group of artists, had moved to the largest district of Amsterdam which had relatively few cultural platforms and we had the potential of serving as a new space for the neighborhood. However, few locals would attend the programs in the building or make use of the option to host events there themselves.
I decided to do research on what made the threshold to a space such as ours so high and what could be done to form connections with our neighbors. I approached people from the neighborhood, asking how and where they spent their free time and interviewed artists within the district collaborating with locals through participatory art projects. What quickly became apparent was that the artists would initiate encounters outside of the art institute through interventions in public space. There the artists would get into contact with their neighbors by offering them food, drinks, or an activity.
Applying the results from my previous research to this ACCESS-pilot, the Art-Cart (de Kunstkar) was realized. Offering those passing by a cup of coffee or tea, and sometimes a delicacy from local bakers, people could marvel over the artworks collected in the cart. The cart served as an exhibition space, but more importantly, it connected inhabitants to the already present cultural programs of Nieuw-West. The surprising appearance of the cart sparked curiosity and offering a warm drink allowed space for exchange. People shared their creative interests and could be directly linked to organizations in the neighborhood aligning with their preferences, often leaving with flyers of workshops given at nearby community centers. Some enthusiastically promised to return with a piece of their own to exhibit in the Art-Cart.