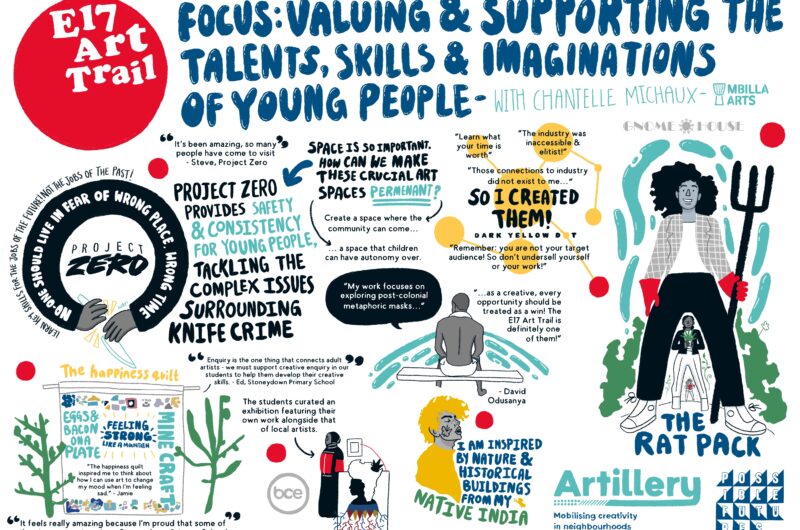 How can we capture conversations triggered by a festival scattered across 200 neighbourhood sites?
Over the last 16 months City Hall's Culture Team have been participating in an Urbact learning network. Part of this programme is to create small scale actions working with local community groups. Artillery are part of the London Local Access Group (25 artists, grassroots arts organisers and policy makers) and in July 2021 we invited Artillery to create a series of walking conversations.
The E17 Art Trail is a biennial festival of art that reveals the spaces in which artists, makers and creators work. The festival is created by the residents of Walthamstow and coordinated by Artillery. In 2021 it ran from the 1st to 18th July at more than 200 venues across Walthamstow.
The festival has been running for 17 years, starting life as a two-day festival and now runs for 18 days with 45,000 people taking part. As one of the key organisers, Artillery were keen to find a way to capture the many conversations and discussions that come out of this inspiring art extravaganza.
How can we demonstrate the social impact of culture – championing the breadth of cultural activity across our capital and showcasing the difference it makes to Londoner's lives?
How do we shift from cultural policy created for Londoners to policy created with Londoners?
How do we create the conditions for conversations to flourish?
…and how is access and inclusion hardwired into the above?
London's Local Access Group have been considering these questions as they shape an Action Plan for London. Aligned to these questions are the challenges of evidencing the spontaneous and often non-verbal responses to experiencing art, and especially the physical communication of making together.
Surveys can only go so far in collating ideas, data or stats and often artists and audiences simply don't have the time to relate encounters fully in a participant survey. Therefore, in 2021, Artillery trialled an experiment – applying visual minute-taking to evidence the importance of incidental interactions between visitors and artists.
Having devised and co-created neighbourhood festivals with artists and residents in Waltham Forest, East London for 17 years, Artillery have witnessed three things repeatedly surfacing for participants and audiences:
Making connections
Making lasting shared memories
Ripples of inspiration to be proactive (and consequently valued) creative citizens
In passing we regularly hear:
Artists love the immediacy of hearing responses from audiences to their new work
Everyone loves the new connections made, or re-ignited and the license the trail gives people to start conversations with strangers
Conversations trigger new creative collaborations and creative activism
Could visual scribing help us capture the conversations that happen on the E17 Art Trail? The questions, the wonderings, the feelings, the ideas taking shape as people experience their streets, parks and neighbourhoods differently because of 300+ invitations to encounter art inside and out?
The experiment
How can we involve our inclusion advisers in supporting evaluation?
Can we invite informal conversations at the festival and how do we curate these conversations?
Can we use visually scribing to capture more than words of these conversations?
Could these walking conversations build new connections with London Urbact Access group, Civic Futures and similar initiatives, as well as draw new audiences to our 300 exhibitions, events and activities?
Who was involved?
Five of our eight Inclusion Advisers*
Rae – our visual scribe and local resident. Rae openly describes herself as dyspraxic and dyslexic and brings her experience and strategies for coping with text-heavy documents
45 art hosts, artists and participants
Up to 3 visiting guests per walking conversation
What happened?
Each walking conversation had a specific focus and was hosted by our inclusion adviser with expertise in this area:
Valuing and supporting the talents, skills and imaginations of young people
Host: Chantelle Micheaux (Director of Mbilla Arts, Coordinator of Waltham Forest Cultural Education Partnership, local resident and E17 Art Trail event curator)
Culture, identity, gender, diaspora and place.
Host: Sba Shaikh (Fine art textile artist, champion the art forms of S Asian diaspora in Britain, HE teacher, Trustee for William Morris Gallery, local resident and E17 Art Trail exhibitor)
Growing creative programmes for neighbourhood high streets
Hosts: Penny Rutterford (broker of creative partnerships with high street businesses, E17 Art Trail marketing & publicity coordinator, local resident and E17 Art Trail & High Street ADVENTures project curator) & Katherine Hall (digital developer, social documentary photographer, Director of Rendezvous Projects, local resident and E17 Art Trail exhibitor)
Can non purpose built spaces welcome audiences with diverse access needs?
Host: Sarah Teichler (Access consultant, raising a child with a degenerative condition, local resident & E17 Art Trail visitor)
Making visible black narrative of our neighbourhoods
Host: Jo Sealy (social documentary photographer (incl We Are Here, & Black Artisans), business mentor (incl championing black & female business leaders) Director of To-Market, local resident and E17 Art Trail exhibitor)
What we discovered
Rae's illustrations are wonderful shorthand to evoke the exhibitions visited and capture ideas and issues at the heart of each conversation. As readers, we are 'overhearing' the ideas, debates and questions that the experience of visiting the exhibitions as a group provoked. For Artillery, these are eye-catching representations of some of the social impact of this recurring, vast, grassroots initiative.  Just like the Trail itself – there are many 'ways-in' and you can choose your own way to navigate the information. Collecting our evidence in a meaningful and affordable way that immediately reflects the proliferation of creativity that the festival stimulates in our borough.
We can easily share these findings with the people who shared their insights by taking part that stimulates a healthy 'feedback loop' and so the conversations stay live and continue. For walking conversation participants, the immediacy of spotting yourself and/or your contribution can be really satisfying and can take you back to the richness of the conversation.
Imagining next steps
Imagine if we could give all our episodic volunteers and short-term contractors visual representations of our guiding principles and our policy docs!
Imagine if a visual scribe could attend our immersive co-creation sessions and help capture the physical and spoken expressions of ideas surfacing, and processes emerging.
Imagine if, in our multi-lingual community, physical and visual languages were as clearly documented as those spoken and written.
As we imagine this, we start to envisage a stronger sense of co-ownership and acknowledging our shared responsibility of making our creative neighbourhood projects happen.
Get involved
Artillery would love to hear from you.
Do you have questions about our approach to creating a sense of place through neighbourhood projects?
Would you like to know more about residents animating towns with their imaginations, skills and talents, nurturing the conditions for creative citizenship and activism?
Could you collaborate with us and evolve our approach?
Have you been integrating creative approaches to collecting evidence of impact and feedback beyond the survey?
See the 2021 programme here: www.e17arttrail.co.uk
Enjoy some snapshots of the festival on Artillery's YouTube channel
Get in touch with Artillery: events@artillery.org.uk
Twitter | Facebook | Instagram