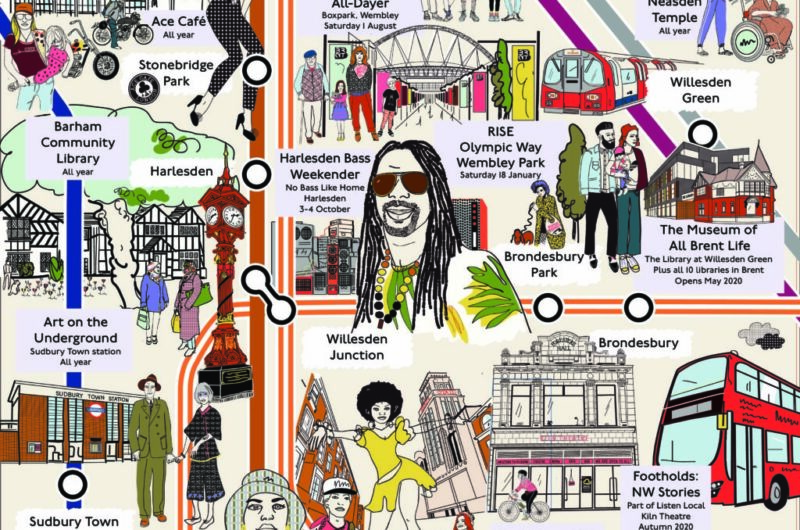 Celebrating local culture in London
The Mayor launched London Borough of Culture in June 2017. This new award is inspired by the UK City and European Capital of Culture programmes. The aim is to shine a light on London's diversity, and put culture at the heart of local communities. By bringing culture to where people live, all Londoners can join in.
"London Borough of Culture is a game-changer," Sadiq Khan, Mayor of London said. "It will give all Londoners, regardless of background, the opportunity to enjoy the capital's fantastic cultural riches"
Waltham Forest's year to remember
Waltham Forest was the first ever London Borough of Culture in 2019. The year-long celebration had everything from music festivals and garden parties, to busking in shop windows and human libraries. Local people played a huge part in the programme, with more than 1,000 volunteers and over 1,000 events across the borough. All 88 local schools were involved too.
Brent rises to the challenge
Brent had to adapt its programme in 2020. The borough did a great job at uniting communities virtually when they couldn't meet in real life. Over 1,000 artists, hundreds of volunteers, young ambassadors, teachers and community advisors helped ensure its success.
A seven-hour festival celebrating Brent's reggae heritage was watched by over 70,000 online. Elsewhere, the new Biennial for Brent took place in local libraries, streets and public spaces. The 23 artworks commissioned for the show were seen by more than 120,000 people.
Redesigning the roundel and cultural Tube maps
At stations across Waltham Forest in 2019 and Brent in 2020, TfL's famous roundels were redesigned to welcome residents and visitors alike.  In addition, TfL created special cultural Tube maps to show all the great events that were going on. These also encouraged Londoners and visitors to explore the city and discover unfamiliar local attractions.
What's next for London Borough of Culture?
The next two London boroughs to win the award are Lewisham (2022) and Croydon (2023). Lewisham plans to celebrate its rich history of cultural activism. Expect music, dance, public art and more, all with a focus on the climate emergency. Sustainability is at the heart of Croydon's plans. There'll be inspiring activities on the theme of progress, nature, inclusion and growth. Don't know about you, but we can't wait…
Keep up to date with the latest London Borough of Culturenews here

Credit for Tube maps @OTM Create